KPMG, ACI, restate commitment to environmental sustainability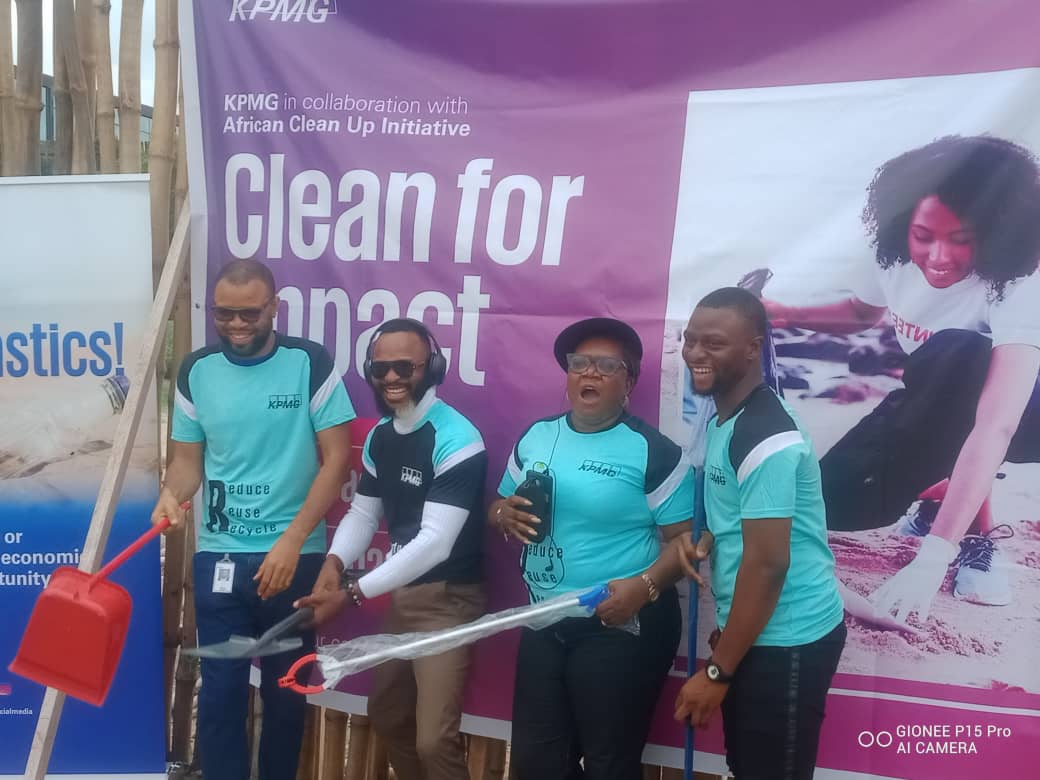 KPMG Nigeria, a global network of professional firms providing Audit, Tax and Advisory Services and the African Clean-up Initiative(ACI) have restated their commitments to environmental sustainability.
The Duo made the commitment on the sidelines of a clean-up exercise at Oniru Beach, Victoria Island, Lagos.
Mr Uzodinma Nwankwo, Partner with KPMG Professional Services Nigeria and a graduate of Botany of the University of Benin said that KPMG's journey to environmentally sustainability and governance has been two years.
Nwankwo said that in recent years businesses have begun to realize the need to look at the impact of their activities on the environment.
"That is why Environment, Sustainability and Governance (ESG) have become a big thing for us at KPMG.
"We in KPMG, as part of connecting to that global journey have come up with our impact plan; that is our channel through which we are driving our strategy commitment towards ESG.
"There are four Pillars: Planet, People, Prosperity and Governance.
"I am specifically responsible for leading the planet pillar, and the planet pillar is looking at what we are doing in ensuring the sustainability of the environment for the future generation.
"This has been a two year journey and we are looking at the future; it is a long term journey towards 2030 and beyond," Nwankwo said.
According to him, the ESG agenda is built on the decarbonisation strategy, nature, biodiversity and stakeholder engagement and ensuring that we are in talks with our clients whom we are providing financial services, auditing and tax.
He said that KPMG was going beyond rendering financial services to speaking to their clients about the sustainability agenda and reporting requirements.
Nwankwo said that companies are now required to report on what they are doing about environmental sustainability.
He said that the Oniru Beach clean-up exercise was one of the series of activities embarked by KPMG over a couple of months.
"We joined the International Community to Mark the World Environment Day 2023 on June 5 with the theme "Beat plastic pollution."
"On June 8, World Ocean Day was marked by the global community reminding everyone of the increasingly negative impact of activities on the ocean, and one of the greatest pollutants is plastic.
"On July 3 was the International Plastic Day; so you can see that there is an emphasis on plastic pollution.
"We at KPMG see that the solution to this problem will require collaboration; that is why our people decided to partner with the ACI to embark on this clean –up activities here at Oniru Beach.
"It is a statement of intent that we want to start to take measureable action, steps towards being the change that we want to see," Nwankwo said.
He said that plastics, undoubtedly are one of man's significant inventions of the 20th century.
He said that 150 million tonnes of plastics are produced every year, adding that on the average, one million tonnes of plastics are introduced into the environment every day.
He said that as useful as plastics are, they unfortunately have become a problem in the ecosystem.
"Only nine per cent of plastics ever produced have been recycled and 79 per cent ends up in landfills.
"And because in Africa our waste management practices still leave a lot to be desired, a lot of those wastes end up in the ocean and eight million tonnes end up in the ocean.
"The rate we are going, it is projected that there would be more plastics in the sea than fishes," Nwankwo said.
He said that most marine life end up injesting these plastics, taking it for jelly fish or prey leading to a buildup of toxins in those fishes which humans ultimately consume.
"You can see why the proliferation of cancers; it is a vicious cycle.
"At KPMG, we want to be part of the solution and not the problem in the environment.
"We want to advocate changes in lifestyle around reuse reduce and recycling of plastics," Nwankwo said.
.L
Also Mr Shedrack Bright, Monitoring and Evaluation Manager for ACI, said that the clean-up exercise at Oniru Beach was to sensitise the people on environmental sustainability.
Bright said that there was the need to entrench the values of sorting and waste separation at the beach.
He said that ACI was excited at the partnership with KPMG which was in furtherance of their Cooperate Social Responsibility (CSR).
"It goes to show that KPMG is environmentally responsible," Bright said.
Blessing Onyelekwe, Partnership and engagement Manager for ACI said that ACI is the implementing partner for the KPMG Oniru Beach clean-up
Onyelekwe said that KPMG, having seen the impact of ACI on the environment, came onboard to partner with them on environmental sustainability. (