CBN introduces N500m eNaira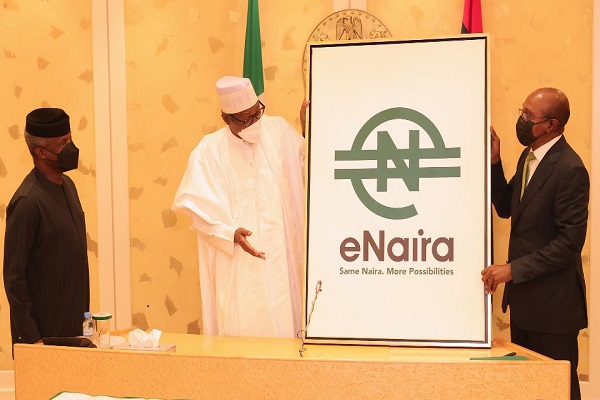 The Central Bank of Nigeria (CBN) has launched its Digital Currency (CBDC) eNaira with over N500m of the currency minted.
During the launch on Monday, President Buhari said the adoption of the digital currency is estimated to increase Nigeria's GDP by $29 billion over the next 10 years.
"We have become the first country in Africa and one of the first in the world to introduce a digital currency to our citizens," Buhari said at the event.
The Central Bank of Nigeria(CBN) Governor Godwin Emefiele said thirty-three banks have been fully integrated on the platform.
He maintained over 2,000 customers are onboard and 120 merchants have successfully registered on the eNaira platform.
Mr Emefiele said that "customers who download the eNaira Speed Wallet App will be able to perform the following: onboard and create their wallet; fund their eNaira wallet from their bank account; transfer eNaira from their wallet to another wallet and make payment for purchases at registered merchant locations.
CBN Governor, Godwin Emefiele during his address at the unveiling of the eNaira in Abuja. Photo: Sunday Aghaeze
CBN Governor, Godwin Emefiele during his address at the unveiling of the eNaira in Abuja. Photo: Sunday Aghaeze
According to the eNaira website, the currency serves as both a medium of exchange and a store of value, offering better payment prospects in retail transactions when compared to cash payments. (RadioNigeria)