Vandalised Plateau farms could cause food insecurity -Gov. Lalong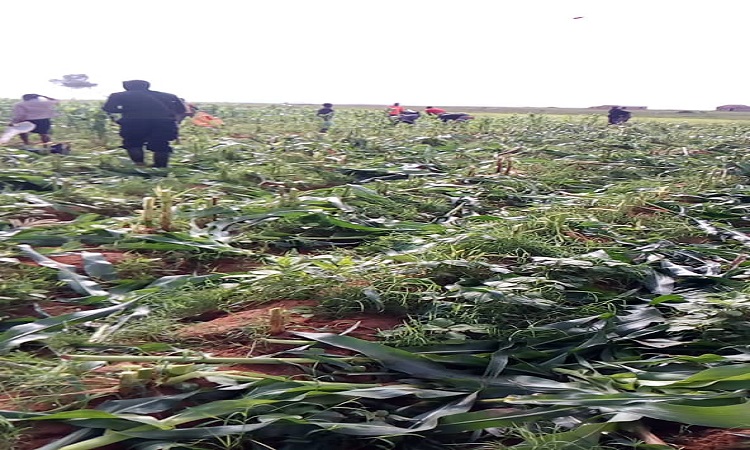 Plateau State Governor, Mr Simon Lalong, has described as callous, criminal, inhuman and wicked, the reported willful destruction of farm crops in some communities in the State by yet to be apprehended criminals.
Governor Lalong while reacting to the ugly development said it is unimaginable that people will go into a farm and mow down flourishing crops that are nearing maturity and expected to be harvested in the coming weeks and months.
This according to him, is a premeditated act that must be addressed.
Mr Lalong said the recent case of such intentional destruction of farm crops in Kpachudu, Jebbu Miango, is totally condemnable and unacceptable in Bassa Local Government.
He noted, from the reports, that the act is carefully planned and executed that is meant to provoke crisis, suspicion, and instability in the area and render the victims poor and hungry. These criminals fail to understand that such actions will eventually leave the entire State and the country with food shortages where even the perpetrators will not escape.
The governor, therefore, directed the security agencies to immediately swing into action by conducting a thorough investigation into this terrorist activity to arrest those behind it and prosecute them.
He sympathizes with the affected farmers and promises that the Government will do its best to ensure that they get justice.
The Middle Belt Forum, MBF also, described the cutting down of food crops across some communities in Plateau State, as deliberate efforts by dastardly outlaws to throw the nation into a dungeon of hunger and food insecurity.
A statement by the MBF National Publicity Secretary Dr Isuwa Sogo called for the urgent need for constant surveillance and protection of farmlands to guide against plots by undesirable elements to plunge the nation, especially plateau state into famine.
Reacting to the unfortunate incident, the representative of Riyom Constituency in the State House of Assembly, Timothy Dantong urged the government to arrest those behind the evil act.
Dantong decried that the anti-land grabbing law signed by Governor Simon Lalong is yet to take full effect, as enforcement of the law has remained a mirage.
A resident of the Jol community, Gyang Moses, whose hectares of maize farm was destroyed, wept profusely when he sighted his crops were cut down.
"I can't comprehend the idea behind this. Our people need help, government must be swift in taking action to assist these poor communities to avert impending famine", he decried.
84 farms have been destroyed across four local governments of Riyom, Jos South, Bassa and Barkin Ladi of Plateau state.
(FRCN)