Illicit financial flow caused by corrupt leaders, foreign accomplices –CISLAC, EFCC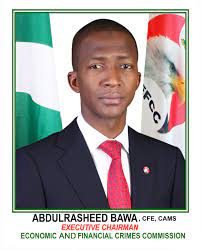 The Civil Society Legislative Advocacy Center (CISLAC) and the Economic and Financial Crimes Commission (EFCC) said illicit financial flows (IFFs) in Nigeria were perpetuated by corrupt former leaders and their foreign accomplices and multinational corporations.
CISLAC Executive Director Mr Auwal Rafsanjani and EFCC President Mr Abdulrasheed Bawa said this at a conference on illicit financial flows (corruption in arbitration) on Wednesday in Abuja.
Bawa, represented by Mr Abiodun Adebanjo, Head of Research Unit, Department of Policy Research and Statistics, EFCC, said the IFF remained Nigeria's most pervasive and daunting challenge.
"The situation we have seen in Nigeria is that corrupt officials and their collaborators in the private sector are using facades and ownership structures that do not provide enough information about the true identity of the natural persons behind the title to hide from the public. illicit money and transfer it to a safe haven. foreign jurisdictions.
"The real problem is not only anonymity but the lack of transparency on the part of the countries where these funds are held versus the countries where these funds are stolen.
"In Nigeria, we see a case in which influential officials are using their positions to plunder government resources and extract maximum rent from the country's mineral resources with minimal or no benefit to the citizens.
"In practical terms, billions of dollars are lost every year in royalties and license fees that have politically tied appropriate individuals to themselves, using facades and secret property deals.
"It deprives the federal government of huge sums of money needed for development," he said.
Bawa said investigations by the EFCC and other international law enforcement agencies revealed that the massive flow of illicit money from Nigeria was facilitated by the Global Shadow Financial System (GSFS).
This, he said, included tax havens, secret jurisdictions, disguised companies, anonymous trust accounts, bogus foundations, bogus trade prices, multinational asset stripping and money laundering techniques. silver.
CISLAC Executive Director Mr. Rafsanjani said Nigeria's situation regarding IFFs and Money Laundering (ML) is extremely difficult.
"Putting it in perspective, Nigeria loses around $ 15-18 billion a year due to illicit capital outflows.
"This is largely generated by tax evasion, but also fueled by grand corruption, organized crime activities and many other legal and illegal practices.
"Although Nigeria may be an extreme case, this pattern is replicated across Africa.
"A recent high panel of the UN calculated that for every dollar earned through foreign direct investment and overseas development aid, Africa loses $ 2 due to illicit financial outflows," he said. added.
Rafsanjani said corruption and loopholes in investor-state arbitration have turned out to be another area where Nigeria is losing precious resources as most Nigerians live in abject poverty.
The executive director said that only one example was the Process & Industrial Developments Limited contract which could result in a gigantic loss of funds in Nigeria.
He said the arbitration case concerned a 2010 contract for the construction and operation of a gas processing facility between Process and Industrial Developments Ltd (P&ID)p>
Rafsanjani said P&ID was a company incorporated in the British Virgin Islands and the Nigerian Ministry of Petroleum Resources.
The executive director said that less than three years after signing the contract, P&ID initiated arbitration, alleging that Nigeria had failed to fulfil its obligations under the contract and sought damages for lost profits.
He said the court found Nigeria terminated the contract and awarded P&ID $ 6.6 billion in damages plus seven per cent interest a year.
"Even though neither party had taken significant steps to fulfil their obligations under the contract.
"Nigeria did not immediately pay the price. This prejudice in favour of the P&ID, an amount which, if it includes the seven per cent interest per year, will be around 10 billion dollars, a figure equal to 28 per cent of the current 2021 annual budget of the country, "said he declared.
Rafsanjani said that if Nigeria had had clearer and stronger government procurement laws and processes, such an agreement would never have happened.
The Executive Director said laws and procedures relating to public procurement need to be improved, made public unconditionally and rigorously enforced.
He advised that Nigeria should also avoid signing public-private partnerships that were not in the public interest.
Rafsanjani said that unless all government contracts, especially those relating to the oil sector, were made public, Nigeria would continue to lose billions of dollars per month due to corruption, incompetence and scams. international.
He called for a register of beneficial owners as well as respect for the principles of open procurement and also called on the federal government to inaugurate the public procurement council as stipulated in the 2007 law on public procurement.
Professor Sadiq Radda, executive secretary of the Presidential Advisory Committee Against Corruption (PACAC) said that when it comes to government, there is no turning back in the fight against corruption.
Radda said the current administration is committed to Nigerians to fight corruption, in other words, it would not be business as Nigeria would not progress until corruption was fought.
(NAN)