North East Rice Festival: Buhari assures Nigerians of more  pyramids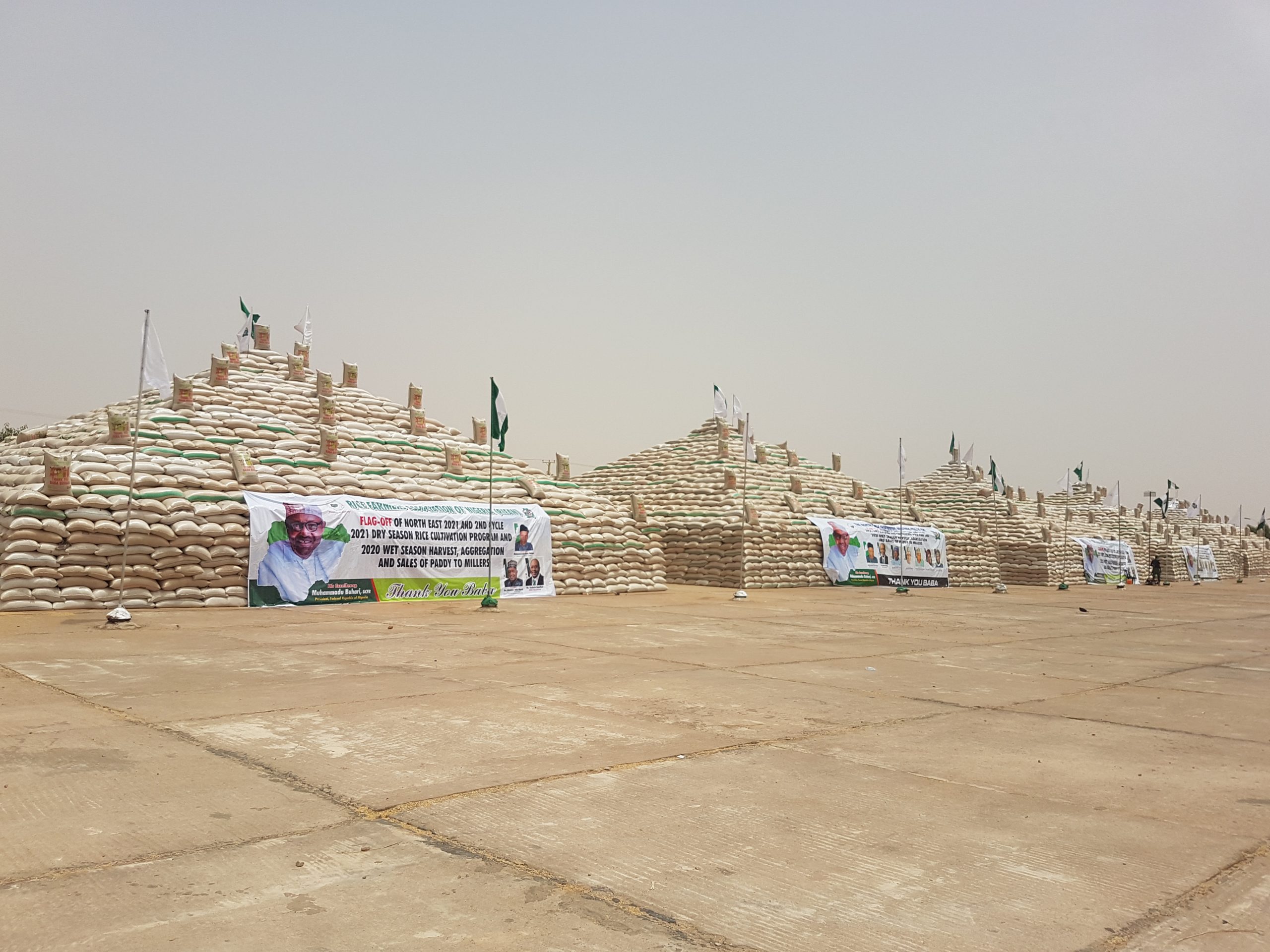 Nigeria's President Muhammadu Buhari has pledged that with the huge investments in the agriculture sector, more rice pyramids will be raised across the country.
He made the pledge during the flag-off of the North East Rice Festival in Gombe State, where rice paddies built 11 pyramids, with over 300 thousand bags of paddy rice, through the Central Bank of Nigeria's Anchor Borrowers Programme, in collaboration with the Rice Farmers Association of Nigeria, RIFAN.
President Buhari, who was represented by the Kebbi State Governor, Abubakar Atiku Bagudu, noted that the development was a great testament to the resilience, energy and responsiveness of Nigerian farmers, organised under RIFAN and supported by the Rice Millers ' and a host of other service providers.
All the rice paddy are the ones produced in the North East through the CBN/Unity Bank/RIFAN Partnership under the Anchor Borrowers Programme, where those take loans from the programme paid back in bags of paddy.
He said President had about two weeks ago approved 30 billion 171 million, 321 thousand naira to support over 360 thousand people, who had been affected by flooding in the year 2020, while inputs had been provided, farmers had been insured by insurance companies so that they would encounter fewer risks in the future.
"So, I have no hesitation in affirming that what is being done for rice will be done for the 54 commodity associations. So, by next year. We will be moving from zonal pyramids to state pyramids. And I am sure before President Buhari leaves office, we will be moving from state pyramids to leveraging to local government pyramids celebrations," said President Buhari.
The Governor of the Central Bank of Nigeria, Mr Godwin Emefiele said it was heartwarming to see that the government's efforts towards self-sufficiency were turning into a movement, where the bank had within some weeks now moved to three zones in the country to celebrate successes in the agricultural sector.
"Before today, we have been to Niger State where we also launched rice paddy pyramids just about five weeks ago, we were in Birnin Kebbi, where we built something even more than we did in Niger State and today, we are here again to launch almost about 12 to 13 rice pyramids, with a cumulative of almost close to about 200 thousand bags of over 50kg bags of rice," said Mr Emefiele
He equally said the train would be moving to Abuja and Ekiti State in a couple of weeks for similar developments, saying the symbolic event would re-enforce the massive potentials in the agriculture sector and encourage more private investment in the agricultural value chain.
Meanwhile, the host Governor, Alhaji Muhammadu Inuwa Yahaya, encouraged farmers to form themselves into clusters or cooperative societies, as a requirement for the guaranteed food security in the state.
"If we form cooperative societies and we form clusters that can work together, we can produce better, we can produce more and we are guaranteed the Central Bank is ready and willing to give us whatever support we need in order to achieve these laudable objectives," said Governor Yahaya.
He said Gombe State was ready and hoped to support initiatives in the agricultural sector, with his administration preparedness to lay the foundation for the Gombe Industrial Park, consisting of a thousand hectares of land earmarked for agricultural processing and other agricultural activities.
Governor Yahaya said the development would provide jobs for the teeming youths in the state and at the same time enhance food security in the country.
The President of the Rice Farmers' Association of Nigeria, RIFAN, Alhaji Aminu Muhammad Goronyo, said the pyramids springing up signified the restoration of the lost glory in the country, where he had only read of pyramids and had never seen them in real life until now.
Goronyo thanked God for President Buhari, as a visionary, focused leader, who was committed to achieving food sufficiency in rice, a major staple food in Nigeria and which was playing out now.