Lagos State Governor, Babajide Sanwo-Olu on Wednesday, commissioned four newly constructed jetties, promising to serve Lagosians "to the best of our ability" in his second term.
The jetties include the Ijegun-Egba Jetty, Ilashe Jetty in Amuwo-Odofin, Isalu-Ajido Jetty, Marina Badagry Jetty.
The commissioning occasion which took place simultaneously in three other locations within Lagos West Senatorial District, formed part of the programmes celebrating the inauguration of his second term in office with project commissioning.
"The Jetty being commissioned today is in furtherance of our commitment to promote water transportation as a key component of our inter modal and integrated transportation system.
"It is one of the key infrastructure needed to make water transportation a viable sector to attract private sector investment in the provision of more ferries to ply additional routes that are being created across the state," he said.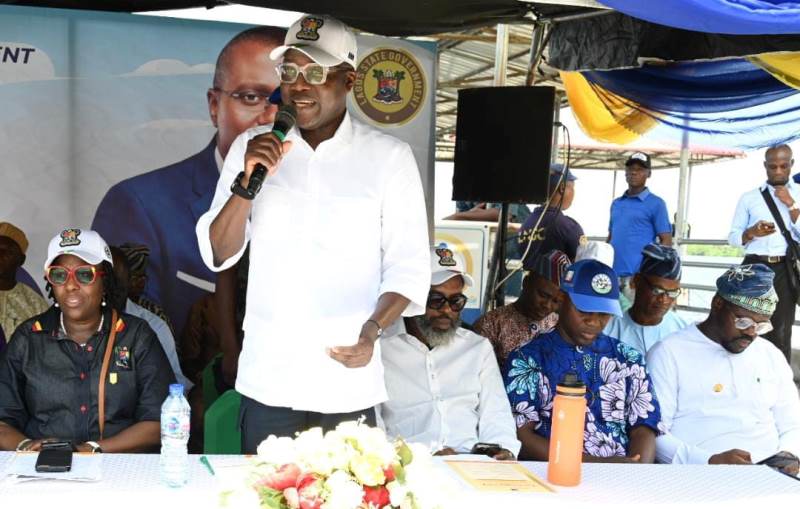 Sanwo-Olu, who was represented by the State Head of Service (HoS), Mr. Hakeem Muri-Okunola at the Ilashe Jetty assured Lagosians of commitment to complete all the on-going construction of new jetties, promising "we will also not relent in providing necessary equipment and sustaining enforcement of regulation to ensure safety on our waterways."
Speaking at the Ijegun-Egba Jetty commissioning, the State Commissioner for Waterfront Infrastructure Development, Kabiru Ahmed, said the Jetties commissioned are part of the seven previously awarded in 2020 for the teeming populace of Ijegun-Egba and it's environs.
He said the Babajide Sanwo-Olu led Administration has taken note that improvement in Water Transportation is amongst the key indices identified to further improve the transportation system worthy of the Smart City status of the State.
According to him, among others, the scope of the work for the Jetties constructed with shoreline protection for safety of commuters, include construction of new reinforced concrete T-shape jetty platform sitting on 24Nos 300mm diameter piles; construction and installation of precast concrete anchored sheet piles with 600mmx 300my x 6m dimensions for shoreline protection; provision of installation of 25mm Tie back rods for anchorage enclosed with 50mm PVC pipe filled with cement epoxy slurry.
Also, were provisions of hydraulic sand fill for the paved areas and lying of 60mm interlocking paving stones; rehabilitation of concrete steal pontoon construction of one storey terminal building with toilet facility and waiting areas, and also sinking of borehole with installation of 1.5HP submersible pumping machine and provision of generator set to ensure uninterrupted services.
"I want to assure you that the Jetty is constructed to international standards to guarantee safety of lives and properties," he said.
He called on commuters on the waterways to do their parts to ensure safety by putting on life jackets always while travelling on water, urging them to return the good gesture of the State Government by taking ownership, guide and protect of the jetty.