Oil workers picket firm in Warri, demand salary arrears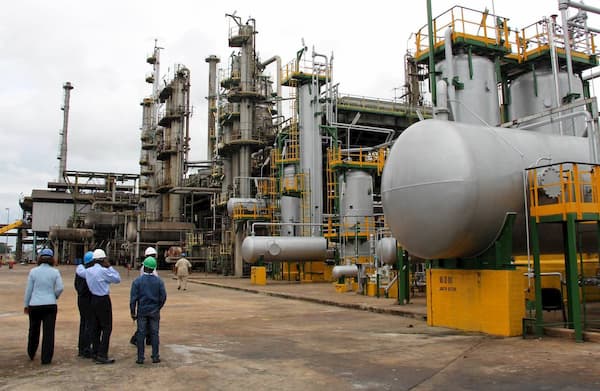 Local contractors and staff working for OML 42 oil mining communities in Delta State have staged a peaceful protest in Warri, demanding for their four years salaries and emoluments.
As early as 8am, the protesters numbering over 200 converged at the main gate of Neconde Energy Limited located at the Berger Yard, Warri, vowing not to leave the premises until they were paid.
They accused Nestoil and Neconde oil firms of owing them salary arrears and emoluments spanning between 2007 and 2020.
The protesters asserted that "communities, contractors and community staff have been working for Naconde and NNPC, yet they have decided to ignore us".
Some of the protesters carried placards with inscriptions such as "We want our total payment today"; "Nestoil pay all our money, stop being wicked to us"; "Stop intimidating us with your security agencies," among others.
Speaking with journalists, one of the leaders of the protesters, Mr Clement Takedor, accused Neconde of failure to pay them for four years now.
"We want them to pay us today because we now believe that the management of the company is unnecessarily being wicked. We will not leave the premises until they address us properly on the way forward," Takedor stated.
While maintaining that the protesters had been patient enough, Takedor said, "we are no fools".
He added, "We have resolved to remain here as we continue with our peaceful protest. Besides, we don't want work to stop in the various stations. There should be no gimmicks.
"Nestoil FTO re-entry payment of five months community staff salaries, FTO contract and flow-line bought over by Nestoil to pay upfront in Egwa-2 oil flow field communities had been denied payment since 2018 till date. It should be paid immediately."
Addressing the protesters, the General Manager, Community and Security officer, Mr Furkokpo Fufeyin, pleaded that they should exercise patience.
He said the company had since put machinery in motion for the payment of workers and contractors.
"I can assure you that from today, we will start the process of payment.  All the invoices have started. I am not for station shut down and any crisis.  Rather things will be sorted out amicably", the general manager said.
He assured that there would be no shutdown in 2021, adding that things would be put in proper shape as nobody would be ignored.